Some moments I may not have my camera with me but they will be engraved into my heart forever. Tonight was one of those times. 
Brayce and I were practicing standing up. She was in her diaper and had the biggest smile. That gap in her teeth makes my heart smile. (someday shell hate it and we will be getting braces I'm sure though) but for now it's one of the cutest things I've ever seen. She's doing awesome. She'll stand for her own for about 5 seconds and then lunge at me and giggle and smile the whole time. My baby girl is 9 1/2 months old and is so stinking perfect. She doesn't talk at all yet but im thinking when she starts she's never going to stop! I can not wait to see what all her personality is going to bring to our family. She is so funny and into everything but yet so laid back and has that "whatever" attitude. When she shakes her head no at me it's the cutest thing! I'm in love with this little girl!!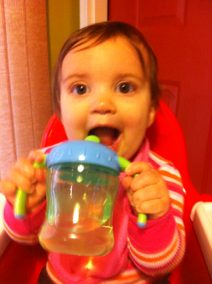 Then there is my kairi. We ran to town tonight and we were making up songs together. She Loves doing that just like her daddy! She sees it she'll sing it! Tonight was about being in our pajama pants. Then she says "you like that song mom? Wanna hear another one?" yes baby I do! Love it!! Well what photo opt I missed but I put into my heart - Kai fell asleep  in the car after jamming to the jammie song in her white barbie princess dress, igloo pj pants, green gator crocs, her red pea coat, a blue scarf & a hot pink striped beanie. When we got home i put her into her bed and just stared at her beauty! She is 33 months old and has more personality than I knew possible. She is always so happy and well behaved. She is my little helper around the house and absolutely adores her little sister. She loves music and has some awesome dance skills! lol. Dressing up as a princess is one of her favorite things to do. She has a memory like no other. Oh and she can eat more slices of pizza than I can! - but that's about all she'll eat like that! #picky Some of her phrases that I think are too cute:" I'm teasing!!!" "Would you get some milk for me Please?" #manners "that's craaazzyy" "I sleep in mommy daddy bed?" anyways I love my big girl she's so perfect!
I asked her tonight if she wanted to be home schooled so I could keep her w me always. She said "no I get bigger I go school." :) I tried!