My husband and I just got home from our trip to Nashville. Wow was it great. It came at a time that was crazy and we thought we didn't want to go. But we already had money invested in this trip so we decided to go ahead and go. I am sooo thankful that we did. We left on a Friday and had 5 days together - alone. To be husband and wife. I didn't even know we needed that time together but I think every married couple needs time alone and away from the every day responsibilities to just focus on each other. - I'm definitely thinking this will be a more frequent thing! Well not a full vacation (can't afford those too often) but at least dates!
I love my role as mommy but being just "wife" for 5 days was so refreshing and reenergizing.
I have been in love with my best friend since November 2005 and everyday I fall more and more in love.
So thank you husband for escaping with me. I had the best time!
Thank you mike and lynda for keeping the girls all weekend!! So this weekend could be possible!
And thank you to my girls for being the sweetest lil ones and letting mommy and daddy go and being so well behaved!
Have you made some alone time for your spouse recently?
My best friend!!! Celebrating 5 years together! Hard Rock Cafe
At the photography workshop. He's the J to my K
Our teacher for the day, photographer David Bean & Model - during the workshop
Monday we walked around downtown all day! I had to stop in at Coyote Ugly to check it out. This is me "dancing" on the bar.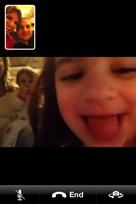 Skyping w our girls
Time to start the trip home. I did much better on this flight!
The girls were spoiled all weekend long!!