No I'm not saying I live w a monkey. And I am not dissing my husband. So what did I mean? 
A movie is coming out on DVD this month that my husband wants to see, Planet of the Apes. A preview came on today and I said thats what JD wants to see & I do not want to watch it. My FIL asked how many chick flicks do we watch with you guys?!  Good point. A lot! :) 
It made me start thinking about the things my husband enjoys doing and then I had to ask myself do I not only support his hobbies do I participate in some of them with him? 
The things my husband enjoys: his job at the church, video games, technology, sports, and "guy" movies. 
I try to make it a point to support him but I am not perfect. But tonight was definitely a good reminder!
I try my best to always support my husband at his job, his ministry as an associate pastor. I do my best to be supportive with his work hours and any extra meetings. I love that he loves his job and I will always be at his side. (I love love love that he always puts Family first though!)
I enjoy watching sports with my husband on tv & any live games we can go to and through his passion of Arizona basketball I am proud to be a Wildcat fan.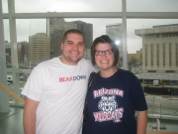 Jonathan and I at the NCAA basketball tourney supporting our AZ team!
But with this being said I have to give my hubs HUGE props! He supports me in my passions and hobbies. #1 being a mommy - because of him I am able to be a stay at home mom! He's willing to work harder and make sacrifices for me to be able to do what I love. 
I have always had a huge love for taking pictures and had a long shot dream of having a studio & being a professional photographer. About a year and a half ago my husband started taking an interest in photography. He liked all that dorky techie stuff. :) so we bought some gear that we didn't know how to work and asked our friends if we could practice on them. We spent several months doing this for free and with my husbands support and brains/research we improved each time. Now we have a studio together and both happily have the title professional photographer. 
Thank you husband for making dreams come true and for encouraging me the whole way. I hope I can support you and your interests as much as you have mine!!